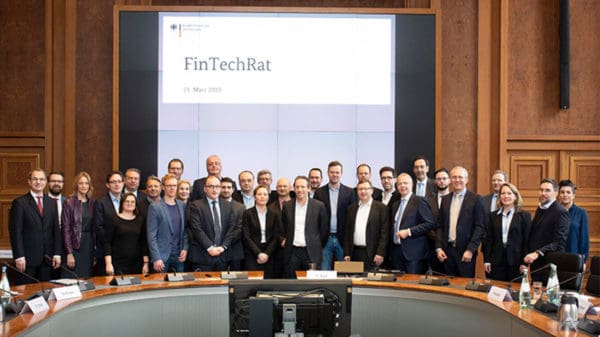 A document recently published by the Fintech Council of the German Federal Government has outlined the country's potential approach to blockchain technology. The document is a consultation entitled "Stellungnahme des FinTechRat zur Blockchain-Strategie der Bundesregierung im Rahmen der öffentlichen Konsultation." The "FinTechRat" is an advisory council formed two years ago to address Fintech innovation. Its 29 members are authorities in the digitization of financial services. The group met for the first time in March when the group selected "digital expert" Chris Bartz as its new chairman.
The FinTechRat advises the German Ministry of Finance and the Federal Government on a voluntary basis on current topics such as artificial intelligence, cloud computing, blockchain, and data protection. The group is expected to meet at least twice a year in the Federal Ministry of Finance.
The FinTechRat seeks to better understand technological developments and their potential, opportunities, and risks and thereby contributes to strengthening Germany as a financial center.
The document, translated from German, is embedded below.
A translation of the preamble states:
"Blockchain strategy of the Federal Government.
The federal government is planning a blockchain strategy and As part of this, a public consultation will be carried out, inter alia, by means of a detailed questionnaire. With this document FinTechRat would like to comment on the questionnaire of the Federal Government regarding the planned blockchain strategy. In addition, the TechRat on the key issues paper of the Federal Ministry of Finance (BMF) and the Federal Ministry of Justice and Consumer Protection (BMJV) on the regulatory treatment of electronic securities and crypto-tokens. In any case, the FinTechRat highly appreciates the Fact that the federal government is planning a blockchain strategy."
Apparently, the German government wants to develop a comprehensive strategy for blockchain. The government seeks to encourage innovation in the area.
Addressing specifically the benefits of tokenization, the document bullets out the following (translation):
Traceability of the transfer of value from owner to owner;
Simplifying the transferability of values ​​and possibly reducing the associated costs
overhead costs;
Increasing the liquidity of tradable assets through easier divisibility, eg it would be through
the almost arbitrary divisibility of tokens eg. easier to create smaller shares of real estate too
sell;
The ability to merge currently physically separate markets and thereby
opening up increased transparency but also the possibility of creating new products
To conclude, the document says there exists enormous potential with blockchain technology but there are risks (translation).
"The entire technical ecosystem around DLT and Blockchain features high modularity and flexibility in terms of tokenization. Therefore, it is difficult to estimate all possible effects based on today's knowledge. However, an efficient and future-oriented, necessarily international, legislation [should] lead to a significant strengthening of innovation."
---
Statement by the FinTech Council on the Federal Government's blockchain strategy in the context of public consultation


Sponsored Links by DQ Promote