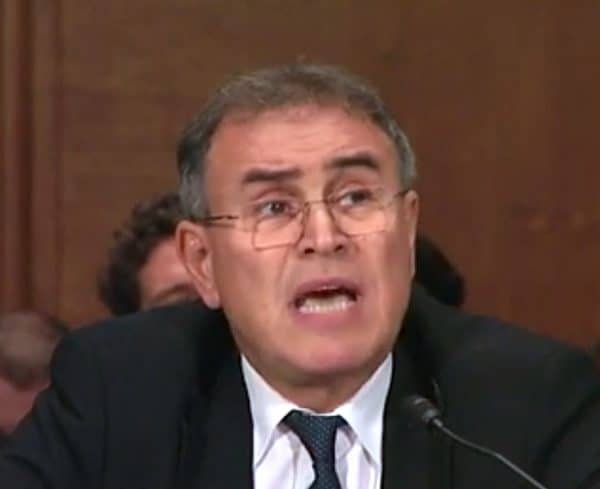 This morning, well known economist Dr. Nouriel Roubini and Peter Van Valkenburg, Director of Research at Coin Center testified before the U.S. Senate Committee on Banking, Housing and Urban Affairs. The topic of discussion was cryptocurrency and the emerging blockchain technology. Roubini attacked and Van Valkenburgh defended.
"Doctor Doom," as Roubini is frequently called, hammered both crypto and blockchain. He said crypto was the mother of all scams. Blockchain, according to Roubini is the most over-hyped tech – ever.
Roubini said crypto, and the underlying tech, remains not scalable, not decentralized, and an environmental disaster. The only benefit, in his opinion, is to help launder the money of criminals. Roubini's prepared testimony is available here.
Below we have several comments from crypto industry executives that challenge Dr. Roubini's harsh assessment. Of course, history will be the final judge and that will take years.
---
Ken Nguyen, CEO of Republic  and Crypto Republic, believes Dr. Roubini's comments lack much needed balance during a time of rapid Fintech innovation.
"Roubini's prepared remarks argue that cryptocurrencies are not a viable unit of account, means of payment or store of value. He also stated elsewhere that Bitcoin can't scale and is not decentralized. I generally disagree, and find these damning statements mostly good for their entertainment value, but not particularly thoughtful," said Nguyen. "Bitcoin and Ether are very much viable means of payment, and their "stored value" characteristics are not disputed by market participants or regulators. Any deficiency to date with respect to scalability or absolute decentralization can and will be improved over time. CoinCenter's viewpoints are more nuanced and balanced, but that's not what gets the attention these days."
Marshall Hayner, founder and CEO of Metal – a platform for blockchain-based payments, investing, and rewards, believes that Roubini's opinion will whither over time:
"Dr. Roubini's presentation was disheartening to witness, and his statistics were majorly taken out of context. His comments on prices dropping 80% instills an unnecessary fear in individuals looking to enter the crypto fray, and raises alarms unjustly for those newly invested in the ecosystem," said Hayner. "Those of us who have been attuned to the maturation of the industry understand that dips in the market are temporary — and certainly do not negate the lasting disruptive nature of cryptocurrencies as a whole."
Hayner believes Roubini's testimony is irresponsible and rooted in his own distrust of emerging technology rather than fact.
"… Most of his criticisms, particularly about stability and scalability, are currently being remedied by many well-known companies. I applaud our federal legislators for making strides towards formally exploring what a blockchain ecosystem would look like in the United States, however it is critical that they seek input actual industry experts, and not get distracted by doomsayers on the wrong side of history."
Mick Hagen, CEO of Mainframe, a blockchain-powered network enabling censorship-resistant data transfer, called Roubini's comments completely unjustified:
"This year we've seen exploding interest from legacy financial institutions to find ways to work with, not against, adoption of blockchain's immutable ledger," Hagen stated. "Roubini's recommendation that financial services rely on permissioned databases — technology from the 80s — reflects a school of thought that places strangleholds around innovation and competitive advantage in the global economy."
Hagen said Roubini's arguments that the current ecosystem isn't decentralized because of mining efforts led by other countries  is a problem.
" … [this] highlights the pressing need to create a friendlier regulatory environment in the United States for participation in the development of decentralized technology."
Ken Lang, ndau Collective Member, creator of a "buoyant digital currency" (think stablecoin+), says Roubini's remarks and prepared statement offers an incorrect characterization of blockchain – but some of his criticism is legitimate:
"…. no one is disputing that volatility is presents a barrier to cryptocurrencies becoming a true store of value. However, he ignores the potential for the industry to adapt and evolve over time. We can now create solutions by approaching economics and monetary supply in a way traditional economists have not considered before, because they didn't have blockchain technology to solve their issues with."
Lang says his company is addressing some of the shortcomings intrinsic to the current generation of crypto.
"Blockchain allows us to build an ecosystem using the properties of blockchain tech to create accountable governance and hopefully, price stability. Cryptocurrencies can vary in their use cases – it's possible to have one cryptocurrency that's a better unit of account than the dollar, one that's a better store of long term value, and another that's a superior means of payment. All three of these concepts can work together to exceed the utility of a fiat currency.  It will take time to get this right, but judging a new technology so soon is foolish when you look at the long history of the many such disruptions."
Salman Habib, CEO & co-founder of Hellofriend, a blockchain-based social platform, says we are in a battle between innovation and legislation. Habib believes that naysayers who have a vested interest in the traditional financial system do not like the ongoing innovation:
"Blockchain technology is at the same critical point in adoption that television, film, and internet once were. There is no escaping the fact that there are severe challenges that exist to mainstream adoption, but one cannot dismiss the revolutionary nature of this technology. We have to focus on real use cases and recognize its long-term potential."
Kalin Stoyanchev, Project Lead and Head of Blockchain at RNDR, a blockchain-based graphics rendering platform, posits that blockchain is much more than Roubini's glorified databas. It provides something people want: trust.
"Centralized infrastructures are easy to use and widespread today, however, they lack the element of indisputable and consensus driven trust in the overall system. Blockchain is still in its early days – naturally, there will be some scams and bubbles here and there as there were in the early internet days, or really any young industry. However, as a whole, blockchain represents the next revolution in the tech space, and can even help alleviate issues surrounding social change, resource allocation, and countless other fields."
Zach Warsavage, North American Strategist of Elastos, called Roubini's testimony "fear mongering."
"Senator Doug Jones questioned the dangers that come with blockchain technology and cryptocurrencies, when it comes to money laundering, human trafficking, and more. Although these are the questions that need to be asked and answered, one thing people frequently fail to realize is that all transactions are tracked and recorded on a public ledger — the last thing criminals want."
Warsavage says Congress needs some serious education on blockchain tech. He warns that other countries may surpass the US in blockchain development.
"It is time for the United States to lead on blockchain — not fear it."
Sponsored Links by DQ Promote