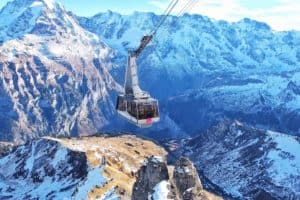 The government of Switzerland wants create the very best environment for Fintech, and more importantly distributed ledger technology (DLT) to thrive.
The Swiss Federal Council kicked off a consultation last month on the adoption of DLT/Blockchain seeking to "increase legal certainty, remove hurdles for DLT-based applications and limit risks of misuse."
Switzerland is well known for its blockchain sector. Many initial coin offerings have been based in Switzerland, specifically Zug – which is known as Crypto Valley.
The consultation at hand will conclude at the end of June.
The review incorporates multiple sectors of crypto assets including the following:
In the Swiss Code of Obligations, the possibility of an electronic registration of rights that can guarantee the functions of negotiable securities is to be created. This is intended to increase legal certainty in the transfer of DLT-based assets.
In the Federal Law on Debt Collection and Bankruptcy, the segregation of crypto assets in the event of bankruptcy is to be expressly regulated, also to increase legal certainty.
In financial market infrastructure law, a new authorisation category for so-called "DLT trading facilities" is to be created. These are intended to be able to offer regulated financial market players and private customers services in the areas of trading, clearing, settlement, and custody with DLT-based assets.
It should also be possible in the future to obtain a license to operate an organized trading facility as a securities firm. This requires an adaptation of the future Financial Institutions Act.
The Federal Council is sensitive to AML requirements and money laundering will be integrated within any outcome. Simultaneously, the Council notes its preference not to regulate donations and rewards based platforms as it would be "disproportionate" as it is so small.
Perhaps, the most important aspect of the consultation is the trading of digital assets and the proposed law.
In a blog post, PwC notes that Switzerland is introducing "DLT uncertified securities"  and DLT trading venues. To quote: "The requirements for establishing a DLT exchange are similar to those for stock exchanges, but there is no listing takes place and multilateral trading is limited to DLT securities and tokens that are not securities, such as payment and utility tokens."
It will be interesting to see what the Swiss produce following the consultation.