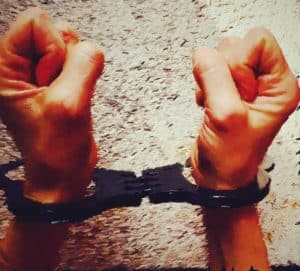 Yet another computer-savant smart enough to have allegedly managed a vast Dark Web marketplace yet not quite smart enough to avoid countries with extradition treaties with the US is on his way there to face charges of conspiracy to traffic drugs and launder money.
According to a press release from the US Attorney's Office, Canadian ex-pat Roger Thomas Clark was instrumental to operations at "the Amazon.com of drugs," Silk Road, and allegedly, "advis(ed) (it's founder Ross Ulbricht) on…how to maximize profits and use threats of violence to thwart law enforcement."
The release states that Clark, 55, was put on a plane in Thailand last Friday and was expected to appear before a New York judge that afternoon.
Silk Road was shut down after Ulbricht was arrested in a San Francisco library branch in late 2013. He is said to have been logged on to Silk Road at the time.
Ulbricht, who is 34 years old, wrote glowingly of his "mentor," Clark in a 2011 journal entry:
"He has helped me better interact with the community around Silk Road, delivering proclamations, handling troublesome characters, running a sale, changing my name, devising rules, and on and on…He also helped me get my head straight regarding legal protection, cover stories, devising a will, finding a successor, and so on. He's been a real mentor."
Ulbricht is now serving a life sentence with no chance of parole for money-laundering, hacking and conspiracy to traffic drugs and false IDs.
According to Wikipedia, during the course of his trial, in 2015, Ulbricht claimed he'd sold Silk Road in 2011 to the now disgraced ex-CEO of Mt. Gox, Mark Karpeles, and said Karpeles was the real mastermind behind the site.
The judge presiding disallowed the comments.
An appeal to have Ulbricht's sentence overturned in 2017 resulted in the upholding of his conviction.
Today Ulbricht is regarded by many in the crypto community as something of a scapegoat and martyr.
James D. Robnett, the Special Agent-in-Charge from the IRS Criminal Investigation unit was quoted in the US Attorney's release describing his and other agencies' considerable enforcement powers:
"The unsealed indictment again shows that the supposed anonymity of the dark web is not a protective shield from prosecution. Working with our law enforcement partners, IRS-CI used its unique financial and cyber expertise to help shine a bright light on a shadowy black marketplace, and we intend to
continue pursuing these kinds of criminals no matter where they hide."
FBI Assistant Director William F. Sweeney Jr. added:
"Today's extradition of Roger Clark shows that despite alleged attempts to operate under the radar, he was never out of our reach."
Roger Thomas Clark, who is 55, has fought extradition to the US since his arrest in Dec 2015.

Clark, too, reportedly faces life in prison on charges of conspiring to traffick drugs and launder money.

In an exclusive interview Clark gave to reporters from Ars Technica in 2016, Clark allegedly bragged about very high level interest in his case. "Very few people ever have an extradition signed by John Kerry," he said.

Incidentally, another Canadian accused of running a dark web marketplace, Alpha Bay, was also apprehended in Thailand last.

Montreal native Alexander Cazes, was later found dead in his Thai jail cell. His death was ruled a suicide.

Cazes had been awaiting extradition to the US to face charges money laundering and drug trafficking there.

He had reportedly been living large (and unofficially) in Thailand for 8 years when Thai police arrested him as part of a joint US, Canadian, and Thai police effort called "Operation Bayonet."

Cazes' site, Alpha Bay, is said to have taken over much of the business lost in the shut down of Silk Road, and like Silk Road, relied heavily on the use of cryptocurrencies to enable discreet transactions.

Alpha Bay was reportedly handling $600 000 to 800 000 worth of Dark Web business per day when police moved in on Cazes.

Sponsored Links by DQ Promote