Less than one year after securing $1,117,836 for its popSLATE2 smart second screen for iPhone on Indiegogo, California startup popSLATE announced that the project has officially been shut down indefinitely and no refunds would be issued. popSLATE2 is described as an intelligent combination of an ultra-thin protective shell that is feature-loaded to keep the phone user informed at-a-glance while providing extra juice when they need it. The project was set to be delivered in July 2016 but was later delayed to March 2017.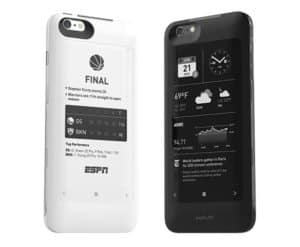 On Friday, popSlate's co-founders Yashar Behzadi and Greg Moon revealed in the update that not only was the project shutting down, the company itself was also shutting its doors:
"Based upon your support, we have spent the last year continuing to develop our vision for always-on mobile solutions. Our goal was to solve three fundamental issues with today's smartphones: we wanted to simplify access to information, increase battery performance, and improve readability. Unfortunately, the significant development hurdles that we have encountered have completely depleted our finances, and we have been unable to raise additional funds in the current market. As a result, popSLATE does not have a viable business path forward."
Behzadi and Moon also explained what caused the project derail:
"We are out of money at this juncture for two key reasons. First, we have spent heavily into extensive development and preparation for manufacturing;  as you are aware, we hit some critical issues that multiplied the required spend, as described in previous updates. Most recently, we learned that the fix for the Apple OTA issues would involve more significant redesign. While we initially suspected that the Lightning circuit was the culprit, it turned out that it was a much more fundamental issue.  Namely, our housing material is not compatible with Apple OTA requirements. You may think, 'Wait, isn't it just plastic?  Why would that be a problem?' While the housing is indeed largely plastic, we used a very special custom blend of materials that included glass fibers.
"The glass fibers were used to solve two issues, both of which were related to making the device super-thin: a) they enabled uniform, non-distortional cooling of the housing mold around our metal stiffener plate (the key component that makes popSLATE 2 thin but very strong) and b) they added tensile strength to the very compact form factor. Unfortunately, we have concluded that these added fibers are attenuating the RF signal and that we would have to spend additional cycles to tune a new blend with required modifications to the tooling. This is an expensive and timely process.
"Second, we have been unsuccessful at raising additional financing, despite having vigorously pursued all available avenues since the close of our March Indiegogo campaign (including angels, VCs, Shark Tank and equity crowdfunding, both in the US and abroad). Many in our network of fellow hardware innovators have encountered this difficult new reality."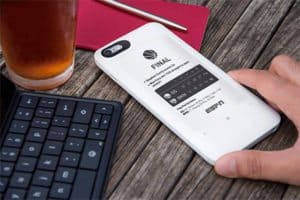 The company went on to note that there was "no way to sugarcoat" the situation and stated the following was happening:
popSLATE has entered into the legal process for dissolution of the company
popSLATE 2 will not be fulfilled
There is no money available for refunds
The co-founders then added:
"While this is a very tough moment professionally and emotionally for us, it is obviously extremely disappointing for all of you who had believed in the popSLATE vision. Many of you have been with us since the March campaign, and a smaller set helped found the popSLATE community back in 2012. To you—our family, friends, and other unwavering backers—we are incredibly grateful for your enthusiasm, ideas, and support throughout the years. Just as importantly,  we deeply regret letting you down and not being able to deliver on our promise to you. We truly wish there were a viable path forward for product fulfillment and the broader popSLATE vision, but sadly we have exhausted all available options."



Have a crowdfunding offering you'd like to share? Submit an offering for consideration using our Submit a Tip form and we may share it on our site!

Sponsored Links by DQ Promote