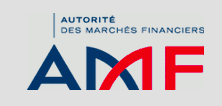 Be on guard. The Autorité des Marchés Financiers (AMF) has published a list of new websites offering binary options trading, for which no authorized investment services provider could be clearly identified.
A binary option, or asset-or-nothing option, is type of option in which the payoff is structured to be either a fixed amount of compensation if the option expires in the money, or nothing at all if the option expires out of the money. The success of a binary option is based on a yes-or-no proposition, hence "binary." A binary option automatically exercises, meaning the option holder does not have the choice to buy or sell the underlying asset. According to investoo.com,
"Binary options are still considered a form of gambling in much of Europe, and regulation of the binary options market has been left to the authorities that regulate the gambling/gaming industry. But for some other regulators, lack of regulation of the binary options market is for some other reasons; perhaps bordering on taxation.

"In France, there are no clear-cut regulations on binary options operations. However, the stance of the AMF towards binary options trading can best be described as hostile. The AMF maintains an official blacklist of binary options companies which are not licensed to do business in France. This list includes many brokers who are already licensed in other countries such as Cyprus. The implication is that AMF does not recognize the ownership of a MiFID license as enough legal cover to do binary options business in France."
Financial markets regulation in France is provided by the AMF, which issues guidelines under which financial markets operators conduct business in France. Newly identified blacklisted websites can be found below:
www.atos-limited.co.uk
www.boursotrad.com
www.brookfield99.com
www.chs-fnds.com
www.colonus-hedging.com
www.comexpartners.com
www.lesoptionsduweb.com
www.londonglobalmarkets.com
www.tradobourse.com
www.silverbinary.com
A list of all unauthorized sites to offer trading of binary options is available in the AMF's website and Assurance Banque Épargne Info Service website. These websites change quickly; this list is not intended to be exhaustive, indicated the AMF. To ensure that the intermediary offering banking or financial products or services is authorized to operate in France, one can also view the register of financial agents or the list of authorized intermediaries in the financial investment advisor (FIA) or participating investment advisor (PIA) categories.
"If the intermediary in question is not on these lists, we strongly recommend that you should not make use of their services, as they are in breach of the applicable legislation and are not required to comply with basic rules of investor protection, information disclosure and claims handling," stated the AMF.
So what is the current status of binary options trading in France?
There is no clear-cut regulatory framework for the oversight of binary options by the AMF due to lack of an enabling law that empowers the AMF to do this.
Binary options trading in France is not illegal.
Offering binary options products in France by offshore companies with or without a MiFID license is considered illegal.
No action has been taken against French citizens and residents who open binary options accounts with offshore brokers.
A blacklist is maintained by the AMF along with warnings to French citizens to avoid the brokers found in the blacklist. No concrete evidence of wrongdoing has been shown. The blacklist includes brokers not licensed by AMF to offer binary options in France.
The AMF is an independent public authority responsible for ensuring that savings invested in financial products are protected, providing investors with adequate information and supervising the orderly operation of markets.

Sponsored Links by DQ Promote