In its concurrent fourth tranche of funding in past two years, Dealflicks has raised $750,000, with roughly $150,000 of it coming from Wefunder so far, bringing their total raise for their cumulative seed round up to $1,545,000. In past tranches, Dealflicks raised $115K in September 2012, $165K in February 2013, $587K in May 2013.  They are also listed on AngelList raising $1 million with a cap of $7 million.
Selected as the Cream of the Crop at 2013's 500 Startups Demo Day, Dealflicks provides yield management for movie tickets. Think Priceline. Consider the adverse situation: $40 billion dollars are spent every year on movie tickets, popcorn, and soda, but 88% of movie theater seats still remain empty. An even bigger problem: 95% of seats are empty after opening weekend. Dealflicks offers a solution by partnering with national theaters to fill their empty seats by selling movie tickets and concessions online for up to 60% off, 24/7/365 with no convenience fees: "New releases at Re-Run Prices.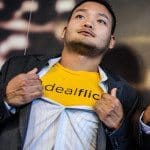 The customer simply goes to the Dealflicks website or an iPhone or Android app, checks for tickets available in or near their zip code and views the discounted movie tickets available. When I checked today, "Oculus," "Draft Day," "Rio 2," "Captain America," "Divergent," "Bears" and "Grand Budapest Hotel" were offered at up to 25% discounts for tomorrow's showings with a "Hollywood Deal" that included discounted popcorn. Prices naturally vary from movie to movie and film to film.
According to the Wefunder campaign and twitter, Dealflicks is live in 258+ theaters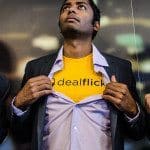 as of 17 April 14, selling 23,795 tickets in sum. Since launched by Sean Wycliffe, Kevin Hong and Zachary Cancio in July 2012, Dealflicks has posted over $145K in revenue clocking all the while experiencing significant growth rates. Dealflicks clocked 66% growth in March 14.
In the Wefunder campaign, Dealflicks addressed questions regarding their competitors and what sets them apart:
"Fandango/Movietickets.com only sells full-priced tickets, they charge convenience fees and they do not sell concessions. Dealflicks sells movie tickets and concessions and our deals are up to 60% off without convenience fees."
"Costco Discount Tickets are sporadically available, must be purchased physically in advance. (Also, from the theater's perspective, Costco tickets are good for any showtime, and theater's can't focus on selling inventory for specific showtimes). Dealflicks inventory is always available, and customers can purchase last minute, even on their mobile devices, with one-click. Dealflicks also allows theaters to pick and choose which showtimes they want to make available, so this gives them the opportunity to sell deals for showtimes that are in greater need vs. blanketly discounting all showtimes."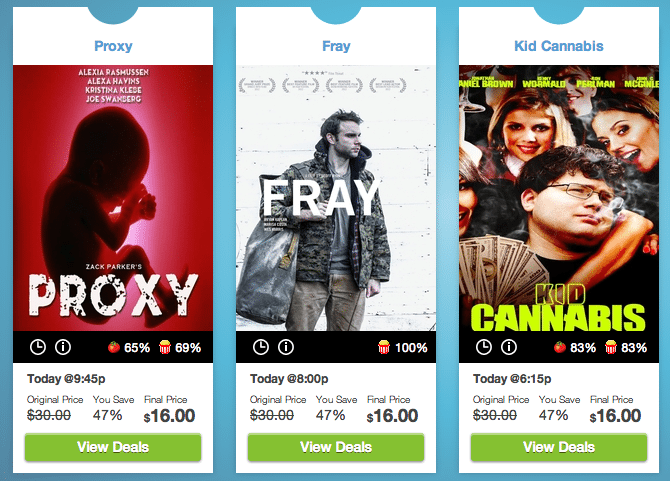 "On Daily Deal sites, movie ticket deals are very rarely available. (More importantly, from the theater's perspective, deal deal site deals are good for any showtime, and theater's can't focus on selling inventory for specific showtimes. Also, theaters have to discount their offer at least 50%, and daily deal sites routinely ask for 50% of revenues, something that's very difficult for theaters to do since they have to pay studios ~50% of all ticket sales based on the retail price.) Dealflicks allows theaters to pick and choose which showtimes they want to make available, so this gives them the opportunity to sell deals for showtimes that are in greater need vs. blanketly discounting all showtimes. Also, theaters get to choose the price point and offers. Inventory for our theater partners is always available."

In the press Dealflicks was featured as recently on 14 April's MSNBC Lean Forward program and well as in other media outlets including CNBC, The New York Times, named as one of the Ten Standout Companies from the Fifth Annual Startup Demo Day in 2013 in Tech Crunch, NBC, CBS, PandoDaily and Film Journal.

According to Tech Crunch's Ryan Lawler, "[Dealflicks] says it is now on track to have $5 million dollars in annual bookings flowing through its platform, and its app boosts online and mobile movie ticket sales by 40 percent. Filling last-minute vacancies by offering discounts is a strategy that has worked well for other apps such as Priceline and Hotel Tonight, so this could really be one to watch."

Have a crowdfunding offering you'd like to share? Submit an offering for consideration using our Submit a Tip form and we may share it on our site!

Sponsored Links by DQ Promote