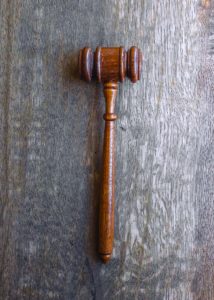 William Green, 46, of Wall Township, New Jersey, has been indicted in the state  for allegedly, "operating an unlicensed money transmitting business through which he charged customers fees to convert more than $2 million in cash into the digital currency Bitcoin."
The indictment follows a criminal complaint alleging the same charges filed against Green on February 28, 2019.
Green is facing a maximum sentence of 5 years imprisonment and a $250 000 fine.
He is accused of operating an unlicensed money transmitting business involving a website called "Destination Bitcoin."
According to the Department of Justice release regarding the indictment, Green took cash from "Destination Bitcoin" customers and converted it into bitcoin cryptocurrency without first registering with the Secretary of the Treasury and obtaining a license to work as a money transmitter, which is required by federal law in the US.
Special agents from the IRS- Criminal Investigation unit, Immigration & Customs Enforcement (ICE) and Homeland Security all participated in the investigation of Green, and he is being prosecuted by Assistant U.S. Attorney Anthony Torntore of the U.S. Attorney's Office Cybercrimes Unit in Newark and defended by Michael Gilberti, Esq.
The State of New Jersey is also seeking forfeiture of alleged property and proceeds of crime, "all property, real and personal, involved in such offense, and all property traceable to such property."
In the event that these alleged proceeds or property have been sold or transferred, the prosecution will seek, "seek forfeiture of any other property of such defendant up to the value of the forfeitable property described above."
A number of LocalBitcoins sellers have been prosecuted in the US for unlicensed money transmitting.
In February, Florida reinstated a case against a LocalBitcoins trader called Michell Espinosa.
In 2013, Espinosa became the focus of a sting operation for "operating an unlicensed cash-for-Bitcoins business."
First presiding Judge Theresa May Pooler originally dismissed the case after determining that bitcoins were not legally defined as cash in the State of Florida at the time Espinosa was making in-person cash-for-bitcoins (and vice versa) transactions.
But appeal documents submitted by Florida now include a lengthy definition of cryptocurrencies from the US Financial Action Task Force (FATF), whereby bitcoins are clearly defined as, "electronic currency."
This year, Finland-based LocalBitcoins, citing the need to comply with anti-money laundering regulations, began to crack down on in-person cash trades in the US and also banned customers in Iran from using the service.